Description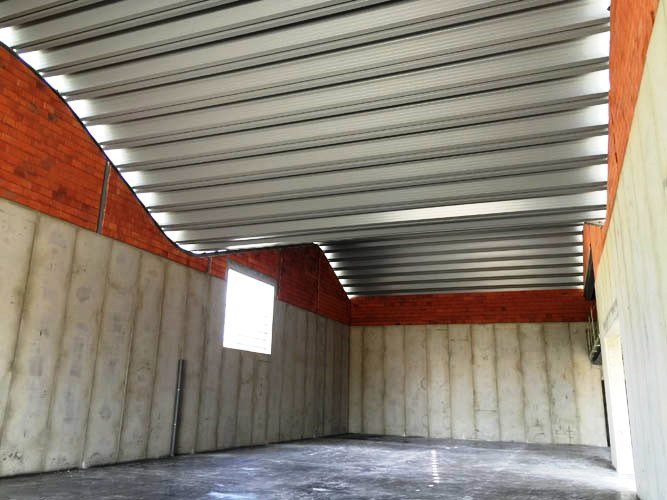 APIMET's flat self-supporting sections have the same main advantages as those mentioned for the curved self-supporting sections used in roofing.
For its production, it also uses one continuous piece of lacquered steel or aluminium sheets that simultaneously serve as structure and roofing, so we can design lighter, airier structures. These types of roofs are perfect for sports spaces, swimming pools, shopping centres, or industrial buildings, and allow for large ceilings, close to 20 metres, without straps or seams, in flat sections.
This allows the designer to eliminate the cost and complexity of the secondary building structure. The APIMET section serves as a visually impressive structural component, reducing costs without compromising performance.
APIMET's self-supporting roofs offer many advantages
Decrease in the work times and number of components that make up the structures.
The components are prefabricated, so they require less control during the execution.
The system guarantees a better seal: it improves the sliding of rainwater or snow, and offers better wind resistance.
They need less maintenance due to the finish of the roof sections, disregarding the greater amount of metal structure that needs to be re-painted periodically.
This roofing system can be completely disassembled.
The technology of the materials used makes for satisfactory performance in harsh environments.
Sections
APIMET offers AP200, AP250 and AP300 sections for flat self-supporting roofs. You can optimize the roof by selecting the type of section and the thickness of the material, obtaining different benefits with each option according to the technical or design requirements that each case demands.
The AP200, AP250 and AP300 sections are manufactured as a standard roof width of 910 mm, 794 mm and 583 mm, respectively. You can see their technical specifications on the "Documentation" section of our website.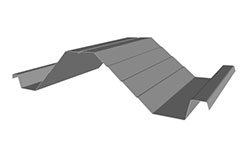 AP200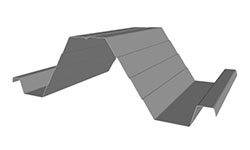 AP250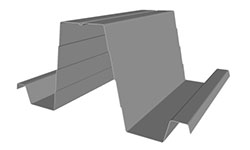 AP300
Materials and finishes
APIMET's modern forming line for self-supporting sections can process materials such as steel or aluminium.
As for the finishes, we can offer all our solutions and sections with a perforated finish, which is used for different purposes, such as hiding machinery ventilation areas or places with windows, for improving the acoustics of an enclosure, or for aesthetic reasons.
Colours
There is a very wide range of colours, as the producers that provide us with reels of steel, both nationally and internationally, can provide us with reels in whatever colours and finishes that we want. The delivery time may differ from one colour to another.
For more information on the different materials, finishes, and colours available, please consult our Marketing Department.