Description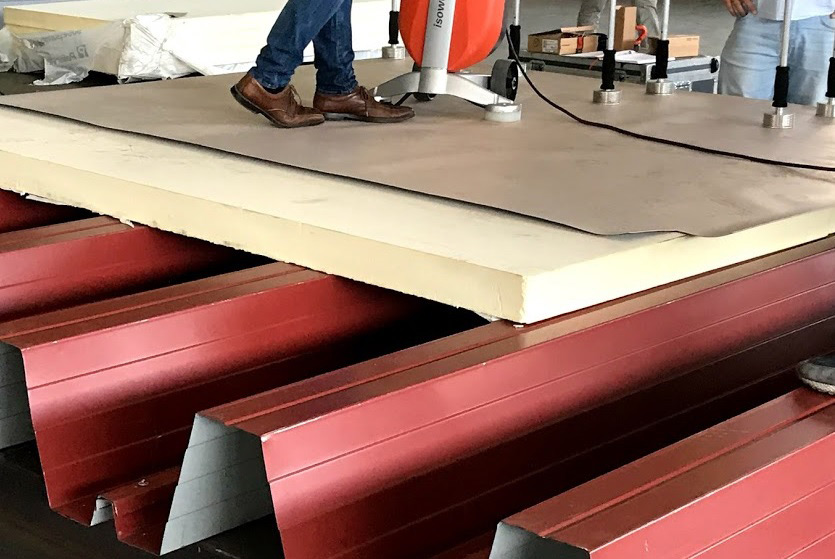 The construction system consists of three elements that provide the resistance, insulation, and waterproofing required for roofs without limitations in the design.
Resistance: The structure is made up of Apimet's self-supporting sections that allow for great spans and less-burdened loads. The sections for this system are the AP250 and the AP300.
Insulation: Formed by rigid foam sheets of polyisocyanurate with a minimum thickness of 80 mm.
Waterproofing: The waterproofing of the roof is done through synthetic sheets by means of the advanced induction fixing system. This new construction system can be used for all types of buildings, but are especially recommended for industrial plants, warehouses, logistics platforms, and shopping, leisure, sports, and infrastructure centres. Simplifying construction for the most complex geometries.
Advantages and benefits of Apimet's Deck system
Apimet has developed this construction system with the goal of achieving an industrialized construction process, resulting in more energy-efficient buildings and a simplified construction process. We use the best possible materials so that the section's durability and installation is guaranteed for the owners of the building and for the entities involved in the construction.
With this system, we can achieve the following advantages and benefits, among others:
Lighter and simpler structures. Apimet's self-supporting sections can be used for large spans and eliminate secondary elements of structures, such as strapping, achieving simpler and more cost-effective structures. By using this element, we can also improve the overall performance of the structure, since it forms a continuous rigid membrane that supports the main structural elements.
Manufacturing and assembly times of the structure and roof are reduced. Decreasing, above all, the assembly costs of the structure's secondary elements. Said elements bring about low performance and, therefore, higher costs.
This system provides high thermal resistance granting the building optimal thermal conditions; this, along with its lightness, makes it very appropriate as a covering for large spaces, not just as a roof.
The waterproofing used in this system is fixed with an induction system. This allows, along with the quality of the materials used, greater durability and easy preservation and repair.
The system adapts to any design and geometry, from the most complex to the simplest forms.